Three Forks Saddlery Pads
Three Forks Saddlery and Neil Merrill have been producing the revolutionary Merrill Barrel Pad for over 10 years.
More recently, we have added the Three Forks Ortho-Roper, Ultimate Roper, and the All-Around Saddle Pads. These signature, seamless pads are built with laminated contoured construction for a superb fit. A memory foam top allows the pad to thin out and disperse pressure evenly while the bottom foam layer is a full rebound material to accept shock at every stride.
The advanced design of these pads allows for the bridging of technology and a hand-crafted product that offers many orthopedic benefits. All styles come equipped with your choice of either a hospital grade felt or neoprene bottom.
Testimonials
"Amazing folks! So helpful! Very knowledgeable!"

Stephanie L.
"Joe is very knowledgeable and friendly. Never a salesman just a helpful horseman and neighbor!" 

Shannon M.
"Very cool store...real working saddlery."

T. R.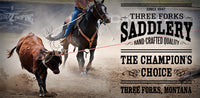 Hand-Crafted Saddles
Shop our extensive collection of saddles: new & used. Our custom-made saddles are a popular selection for the local rancher, equine enthusiast, and for those in the rodeo circuit. If you are interested in a custom-made saddle, please contact us at: (866) 318-2371.
Shop Saddles